Riverstone Estate Wedding | Heather + Chris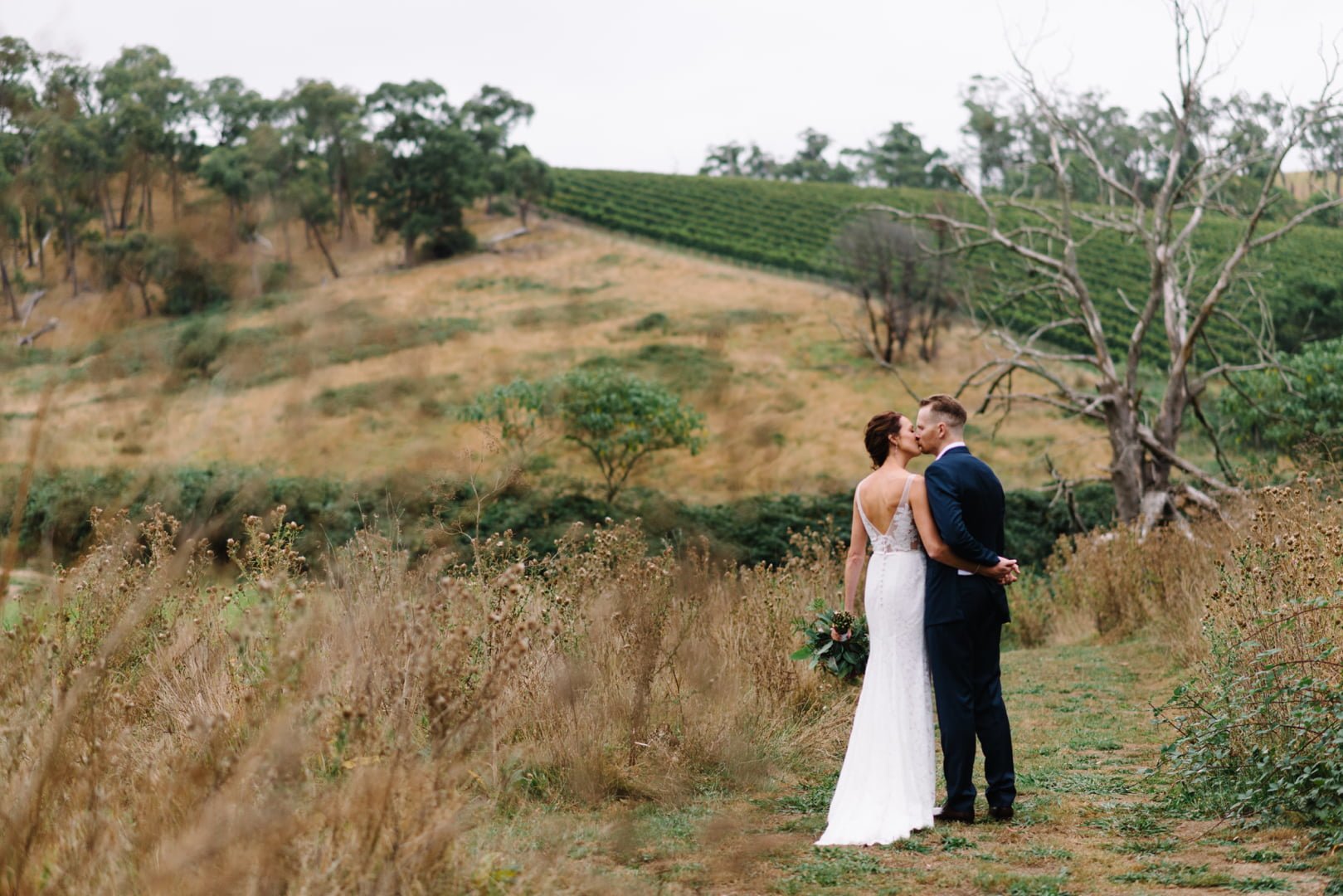 From our very first meeting, I could tell that Heather and Chris had a special relationship based on friendship, mutual love and respect.
It was clear that they adored each other and so it was no surprise to me that their day was incredibly beautiful, romantic and heart centred.
Heather looked so stunning in a gorgeous gown by Mariana Hardwick and adorned by a colourful array of flowers that looked like they'd come straight from the garden. And Chris was visibly floored by his beautiful bride as she walked towards him with the Yarra Ranges as the backdrop for a beautiful ceremony at the incredible Riverstone Estate.
Heather's Aunt, a Zen Buddhist Nun offered a few wise words about the symbol and meaning of the ring and a blessing to help purify, protect and strengthen their union. And it was a truly spiritual experience having her voice raised in song echoing across the valley.
We had a day that threatened rain on and off throughout, and unfortunately it did interrupt the beautiful ceremony, but that continued on the balcony of the restaurant hardly skipping a beat! A credit to the professionalism of the celebrant and staff of Riverstone.
It was my first time shooting at this stunning Yarra Valley wedding venue. And wow!! Can someone please book me for another wedding here?!!
We wandered down to the bottom of the valley to enjoy the peace and beauty of the natural surrounds on the property.
Heather and Chris shared a glass of the Estate's rose and some specialties of the kitchen and a few minutes together to soak in this incredible day.
They had eyes for each other the whole day, and really enjoyed their stolen moments together.
All in all, it was a photographer's dream! Take me back!!



Heather and Chris' awesome team of vendors included :
Celebrant : Anne Morrow from Circle of Life Memories
Venue : The Riverstone Estate Winery
Wedding gown : Mariana Hardwick
Groom's suit : Oscar Hunt
Hair : Mim from Love Co Hair and Beauty
Make Up : Allira Taylor
Satin Dressing Robes : Le Rose
And a massive thank you to my second shooter on the day, Karen Matthews.
For more Yarra Valley wedding inspo, you might like to take a look at Yana and Ben's wedding at Gum Gully Farm here.